PURR
Amigo Food Odyssey opens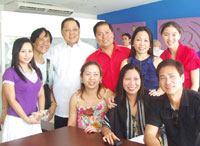 Standing are Candy Hechanova, Lydia Pendon, La Filipina Uygongco Vice Chairman Felipe Uygongco, Vice Mayor Jed Mabilog, Mae Panes and Gigi Sy. Seated are Rosy Montejo, Joy Canon and Jack Wong.
Hop from one food cart to another to taste all-time favorites like noodles, siopao, siomai, squid balls, shrimp balls, shawarmah, and more with the opening of the Amigo Food Odyssey at the parking area of Amigo Plaza Mall.
This is the latest offering of Amigo Plaza Mall to Ilonggos who love fast food in a very convenient, quiet and air-conditioned area.
So, if you're in the area and would like to have a fast lunch or snack, try out the Amigo Food Odyssey. Fast, convenient and just right for your budget.