YOUNG VOICE
The Solution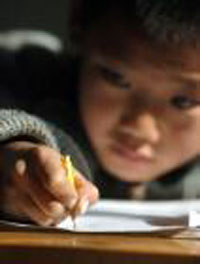 It was the third and loudest cockcrow. The sky remained dim and the moon has not yet left. It was time to start her day. She carefully rose from the 'banig' where she and her five younger siblings sleep. She tiptoed her way outside.
The cool early morning breeze gave her goosebumps. She filled two pails with water from the 'bubon'. She used the first pail to wash what was left on the sink from last night. Her Tatay had several rounds of rhum and pulutan with his co-laborers.
She took the large 'caldero' and added three cups of rice granules. She knew this won't be enough but her mother told her their supply need to last until the end of the week, until the time their father earns from his work at the construction.
She used the other pail to bathe herself; her lips were pale and trembling from every splash of freezing water. She put on her school uniform. She was glad her mother ironed it for her the night before while she was doing her Math homework. She slipped on her four-year-old school shoes recently repaired with superglue.
She was ready to go to school. The 'bukang liwayway' was her signal to go. She kissed her sleeping mother and father goodbye and braced herself from a three-kilometer walk to school.
This is the story of a Filipino child's quest to a happier life, wherein their families get to eat three times a day, watch telenovelas from their own televisions, sleep soundly and cozily in a rainy night minus the dripping ceilings.
I admire the courage of these children to pursue going to school every day despite the worn out hand-me-down school shoes or dilapidated rubber slippers they have on. The luckier ones ride to school inside air-conditioned shiny cars. Their leather shoes are saved from the risks of mud and chewing gums while their soles are spared from foot-spa reject calluses. It is then a depressing sight, seeing children from well-off families, roaming the malls while shopping recklessly during class hours. It is then a sorry sight, seeing children with enough allowances, in computer cafes cutting classes just to serve a dish on a virtual restaurant or dealing with Sentinels. It does not matter how you get there, as long as you get there.
I admire the unwavering hope of these children for a better future for their families, dreaming that someday their leaking ceilings and termite-infested walls will be replaced with a pleasant residence in a subdivision. The luckier ones have lesser weights on their backs. They need not to worry about the future of their families. They can freely plan on how they are going to live their solo careers. Some even have their future all set, complete with a sure job vacancy and a fully paid life insurance. It is then a sad sight, seeing students with platinum credit cards drowning themselves in alcohol almost every night and partying inside bars and clubs even though tomorrow a major exam awaits. It is then a pitiful sight, seeing students coming from the elite society, bullying and cheating off a classmate who sustains his schooling with mere scholarships and working as a student assistant. Dreams are one of the few things left free for all.
I hope the luckier ones will come to realize how education can be the only means, can be the only solution to the problem of their classmates wearing four-year old school shoes recently repaired with super glue. They might not see how an entire family depends upon the success of their classmate with the thinnest wallet. I hope the luckier ones will begin to treat their own journey of education with a more meaningful substance.
Besides, there are those who are filthy rich but don't get real respect as their thrown with backbites concerning how less learned they appear to be. Money can come and go, you can go bankrupt, you can be robbed, and you can lose in a bid. But the skills and the knowledge that makes the money will remain safe and impenetrable. Yes, our parents our right. Education is the only thing that cannot be stolen from us.
She arrived in school and she was the first one around. She went inside an empty classroom, sat on her desk and reviewed her Math homework. The solutions seem right.
I agree with her, the solution is right.
Education is the solution. (Comments and reactions to reylangarcia@gmail.com)