Don Protasio at Philippine Fashion Week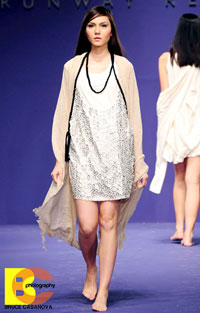 Ilonggo fashion designer who's now based in Cambodia, Don Protasio, jetted to the Philippines in order to participate in the Philippine Fashion Week to showcase his spring and summer collection for 2010.
Called "Paradise", the collection evokes the feeling of paradise when one wears Don's clothes. "To me, paradise means comfortable, easy and cool," he said.
The mood of the collection is being carefree, relaxed, playful, nonchalant, and child-like without looking immature or a caricature. "The last thing on my mind in making my clothes is to make it appear like a costume. It's inspired by an easy spirit, thus my pieces retain that raw, innocent sexuality that comes by being confident about one's body. It's never about vulgarity. It's about pure sensuality in a funny sort of way," he said.
The whole concept can be summed up into several words like sea swept, freedom and languid. "I had this idea of clothes cut like it were submerged in water for a time and got stretched. I wanted ease, comfort and softness to the collection. There's a conscious effort on my part to clear the air of rigidity of my previous collection. I used micromodal, a type of jersey fabric used in underwear for most of the pieces along with cotton linen, stretch cotton and canvas. Micromodal is softer than cotton so it's perfect for humid climate," he concluded.