PURR
Pinoy Global Center at SM City Iloilo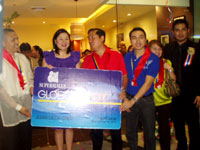 Presentation of the Global Pinoy Card.
Overseas foreign workers (OFW) and their beneficiaries have another reason to be happy. With the opening of the Pinoy Global Center in SM City Iloilo, they will be given ample assistance in their varied needs.
"This is one of the corporate social responsibilities of SM Prime Holdings, to offer membership to all OFWs and their beneficiaries. They can come here, relax, have coffee or tea and do their business like remittance, foreign exchange, cell phone charging and free video conference with loved ones as well as free Internet," said Majella Libo-on, SM City Iloilo mall manager. "Later on, we will provide trainings for the beneficiaries on how to invest their benefactors' hard-earned money," she added.
The requirements for membership are proof of remittance or passport and P150 as payment for the one-time membership. Then, the member will be issued a Pinoy Global Card, which can be presented to the center anytime.
Soon, this card will come with more perks when SM Prime ties up with other stores for possible freebies that the OWFs and their kin can enjoy.