Robinsons Design Lab 4th Run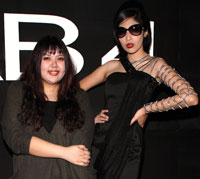 Aisha with model Anna.
Robinsons Design Lab now on its 4th Run, is again in search for talented young designers who will carry on the torch to represent Iloilo in the fashion design world. 19 out of 40 applicants made it to the 1st Elimination Round last February 20, 2010 and 14 aspirants made it for the next round on March 27, 2010. The judges were Bacolod-based fashion design teacher Bamboo Tonogbanua, our very own fashion designer Angelette Borja-Ragus, and Manila-based renowned designer Jojie Lloren.
Aisha Peñalosa stood out and was chosen as Best Designer for the 1st Round.