Love and fortune with a twist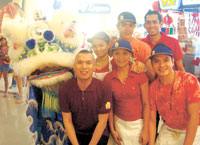 Love and Fortune were in the air last February 14, 2010 as Auntie Anne's Iloilo celebrated both Valentine's Day and Chinese New Year with a twist.
Families, couples and friends were in glee as classic love songs played. Spirits were even higher during the Dragon Dance, which turned out to be a meaningful one according to Roy Betita who said, "I felt ecstatic! To share one very special day with our customers who have been so supportive of Auntie Anne's is such a joy."
Hundreds of pretzel lovers were indeed feeling loved and lucky as Auntie Anne's also launched its newest house blend coffee, brewed to perfection. And yes, free coffee for everybody on that day.