PURR
Green Mango, Coffee Break open at Nelly's Garden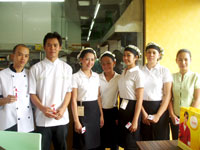 The staff of Green Mango - Nelly's Garden Branch.
There's no stopping Green Mango and Coffee Break from further expanding. They should, because they have become the Ilonggos' favorite destination for affordable food, coffee and beverages.
Recently, these two establishments opened at Nelly's Garden. After the blessing, there was no stopping us from enjoying Green Mango's Perfectly Fried Chicken, Rice n' Sides like Pork Adobo and Fish Escabeche as well as their Sinigang Bar like Lapu-Lapu Sinigang and Pork Sinigang. Well, there's more on the list – a wide selection of Filipino dishes that will captivate you. Their tempting desserts are delicious as well.
The Nelly's Garden branch is the sixth for Green Mango and the 15th for Coffee Break, located along E.Lopez, Jaro.