Saving lives at INHS
A bloodletting activity at the Iloilo National High School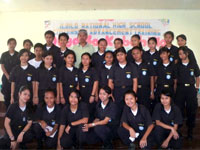 The Iloilo National High School CAT.
FOR the sixth time, the Iloilo National High School (INHS) Citizen Advance training (CAT) conducted a bloodletting activity under the theme, "Dugo Ko, Kabuhi Mo." A collaboration with the Iloilo City Integrated Lions Club and the Philippine National Red Cross, the activity yielded 30 blood donors.
The blood collected will be added to the stock of the PNRC, which the school can use during emergency cases. "In case the blood stock is used, the student is required to replenish this in order to sustain the supply," said Garry Jamili, INHS-CAT facilitator.
This advocacy started last 2004 when sthe school had two students who had dengue and they experienced a lack in blood supply. Since then, the faculty and parents of the students donated blood to answer this concern. The CAD cadets who were physically fit also donated blood.
There were other services during the event, like foot reflexology, blood chemistry and food screening.