Camella Iloilo's Dinagyang street dancing gaiety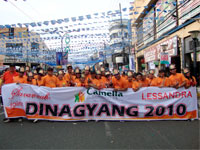 Proud to be part of the Dinagyang Festival.
THE soaring success of Camella Communities, a subsidiary of Vista Land Company and Landscapes, Inc., was recently expressed and exuded in the recent celebration of Dinagyang Festival 2010 when the company's officers, staff, brokers, and associates participated in the street dancing tradition of the festival last January 23. At exactly 2pm, the annual street dancing parade of Iloilo City's top-notch companies and business entities started with a festive mood in front of the University of Iloilo. Camella Iloilo gladly joined the street dancing gaiety for a city-wide parade by expressing their faith in motion coupled with optimism and excitement. The Camella street dancing parade was spearheaded by Camella Iloilo general manager, Lily Donasco and marketing head, Cherry Sampani. Wearing striking orange colour shirts and performing a lively choreographed Dinagyang dance routine, the Camella family enjoyed the cheers of the Ilonggo crowd especially when they finally performed at Freedom Grandstand along Mapa Street.
Camella Communities, the real estate leader in changing the country side and developer of the 300-hectare grand scale themed community in Panay Island, Savannah located at Jibao-an, Pavia, (Iloilo) and Lessandra, the newest town house community in Gorriceta Avenue, Oton (Iloilo), remains steadfast with its aspiration to provide beautiful homes to Ilonggo families. Truly, Camella Communities has become a significant part of Ilonggo history aside from Dinagyang Festival.
Be a part of Ilonggo's first choice dream community now by calling (033) 337-7699.