PURR
Fun for the Black Tulip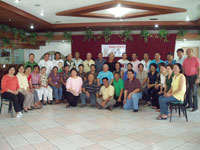 Black Tulip High School Class 1965.
THE University of San Agustin High School Class of 1965 were like high school kids again during their 45th homecoming held in several venues last January. On the first day, the group hosted a welcome dinner and ballroom dancing at the Iloilo Grand Hotel.
The next day, Atty. Ricardo Chu treated his batchmates to a fare of seafoods and native delicacies at Tatoy's Manokan in Villa. During the course of lunch, the long-time classmates talked about the old times. There were laughter shared among them, their life partners and the children that attended the event as well.
Then, in the evening, Rita Ladrido Urbaniak and Engr. Joe Gonzales hosted an international dinner at the former's house in Tagbak. The classmates belted some song and dance numbers to the delight of everybody.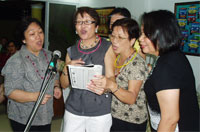 The next day was the grandest, perhaps, as it was spent at the La Puerta Al Paraiso Resort in Buenavista, Guimaras. This was hosted by Vice Governor Aurelio "Apuy" Tionado. As the group arrived at the wharf, they were treated to a performance of the Getulio National High School's Palayag Tribe, champion in the Palayag Festival of Buenavista. Upon arrival at the resort, they were greeted by music from the violins played by the Reyes Family of Barangay Salvacion, Buenavista.
All these activities were attended by their high school principal Rev. Fr. Horacio Rodriguez, who despite being based in Manila, continues to show his support to the Black Tulip.
The reunion was able to renew and rebind the friendship of the batch in the ideas of St. Augustine of Hippo, said Efrain Encanto, Black Tulip coordinator for Iloilo. "With this and the blessing of our loving God, our hearts will be restless in the quest for an Augustinian nourishment of community, truth, and love until we rest in Thee. We look forward for our Golden Augustinian Jubilee in 2015," he added.