PURR
The Jose Ma. E. Cacho GK Village rises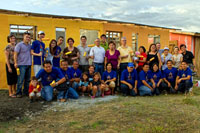 GK Mancom and other volunteers join the Cacho Family in a traditional "GK Build Project" at JMEC International Village. At the first row are Christian Cacho, Ronnie Gabalda, Menyong Falsis, Ganing Patrona, Nikki Cacho, Rose Cacho, Avery, Glo Biado, Nonong Supetran, Melvin Abonado, Marj Mella, Joey Mempin and Merveen Ortega. At the back row are Diane Cacho, Tono Cacho, Mikel Afzelius, Big Onglatco, Marco Afzelius, Marilou Cacho, Luis Miguel Cacho, Mariano Cacho Jr., Keith,Norma Cacho, Jose Mari Cacho Jr., Mariana Cacho, Dr. Diane Cacho, Marichel Magalona, Marcelo Cacho, Small Onglatco, Sandra Cacho and Zedrick Seneres.
AFTER the flood brought about by typhoon Frank in 2008, many Ilonggos were displaced. Thus, the Cachos (owners of Panay Electric Company) decided to build houses for them under what is now called the Jose Ma. E (Rusty) Cacho GK Village (Past Pres.-Chairman of PECO from 1971 to 2006) Village or JMEC GK Village in San Isidro, Jaro, Iloilo City.
According Gawad Kalinga Project Head Mari Rose Cacho, daughter of the late Rusty Cacho, her father gived to charity when he was alive. The family wishes to continue this legacy through the JMEC GK village. Even the houses are painted with different orange tones because orange was the favorite color of her father.
"We want JMEC to be the model village for Iloilo," Mari Rose said. "After the homes are finished, we will put vegetable pots, herbal gardens as well as initiate livelihood programs for the residents. Zonta Iloilo II, of which I am part of, will grow another mini forest here as well," she added.
She said that the money raised for the village came from the Cacho family and friends, who were inspired by the Gawad Kalinga spirit. The cost of each house is P85,000.
Peter Tiu, Panay coordinator for GK, said that there are neighboring GK villages in the area as well, with houses sponsored by other groups. "We call this area as the GK International Villages. There are now 30 houses here and more will be built. The area can accommodate 235 houses," he said.
Gawad Kalinga, which means, "give care" is a nation building movement that engages all sectors of society. Tiu said that GK continues to strive to meet its GK 777 target, which means they have to build 700,000 houses in 7,000 communities in seven years. "The goal will end in 2024 as we are targeting a three 7-year duration. At present, we were able to build 100,000 houses in 1,500 sites all over the country. This is part of the first seven-year period. We still have two more periods to work on. We really target that there would be five million homeless who will be elevated from poverty," he said.
The JMEC Village is the 23rd GK Iloilo Village.