Jay Cayuca: A violin virtuoso
Performs at Emilion Function Center on January 22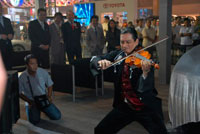 At the 2nd Philippine International Motor Show.
JAY Cayuca, premiere musician will render a unique musical presentation with his violin as his instrument at Emilion Function Center, Gen. Luna on Jan. 22, 2010.
Mr. Cayuca was born in Butuan City in 1963 and brought up by a musically-inclined family. He settled for the violin at a very young age, and soon played for top orchestras, including the Philippin Philharmonic. He is multi-awarded, and has traveled all over the world, performing for different kinds of audiences.
He admitted that he was forced to play and learn a musical instrument. He was six years old when he started playing the piano. Then, he shifted to the saxophone. Then, he saw Ronni Rogoff on TV playing the violin for the first time at the Malacanang Palace, and that was when he decided that the violin is the instrument for him.
"When I was in high school, about 16, I decided that it was really what I wanted to do. But during the 60s and 70s, my parents didn't recommend music as a career. Still, I did my best to convince them and they eventually realized that people cannot live without music. They helped me develop my talent by enrolling me at the University of Santo Tomas. I soon trained under maestros Basilio Manalo, Leonidas Domingo, Luis Valencia, and some German trainers. I had very good, if not the best teachers, which is why I gained focus to have a stable and good career during college. I paid my dues right after, in cruise ships and five-star hotels worldwide, and I also played for orchestras," Cayuca said in a newspaper interview.
He considers his parents as his influences. "I admired both my parents. Then came my maestro Basilio Manalo, and foreign artists like Stefan Gatteli, Jean Laconti, Patrick Trinido—mostly jazz artists like Fritz Kreisler, Joe Venuti, and many more," he said.
As for style, Jay likes to infuse different kinds of music. "So that there will be balance and also so that people will learn to appreciate different kinds of genres. I have always played music that makes me feel good, because I believe this way I have a chance to reach my audience and ideally have them feel first-class about what they are listening to. As my tastes develop, so does my playing. Every year, my style changes and expands. Still, I never let go of my classical background, which mainly differentiates my style from the others. I really enjoy mixing things up for flavor and at the same time find an emotional impact to ever piece for a more refined and musical style as I mature," he said.
Check out Jay's musical style and be enthralled on Jan. 22, 2010, at the Emilion Function Center.