Injap Land Corp. holds office blessing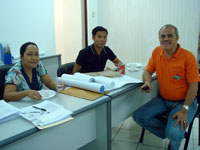 Architect Vicenta Su-ay, guest and Engr. Jovito Habaradas.
INJAP Land Corporation, the real estate development company of Mr. Edgar "Injap" Siap II, held their office blessing last Dec., 8, 2009. Mr. Sia is the founder and owner of the next big thing in the fastfood industry, Mang Inasal, now with 200 stores nationwide.
Injap Land will launch its maiden project, First Homes, on the first quarter of this year. First Homes is a town homes project of only 113 units. It is simply unique. It has hot and cold water, smoke and fire alarm, CFTV camera, waste water treatment, which are among many firsts in a development in Iloilo.
First Homes is a high class development made affordable. Prices from P1.2-million to P2.2-million for two-bedroom, three-bedroom and four-bedroom town homes. It's located at Navais, Mandurriao, near the old Iloilo Airport. It's never been flooded and it's within Iloilo City.
Injap Land islocated at the 3rd floor of ATM Bldg., corner Ledesma-Jalandoni Streets, Iloilo City. They can be reached through telephone numbers (033) 3368183, 3368832 and 3000846.