The consummate historian
A Tribute to Dr. Henry F. Funtecha
The late Dr. Henry Funtecha.
LONG before it became a trend to value the uniqueness of the various history and culture of other regions in the Philippines apart from the hegemony of Filipino or (Tagalog as it was once called), Prof. Henry Henry F. Funtecha had been championing Western Visayas history and culture.
It was a year after earning his MA in History in 1975 at the Central Philippine University where he also graduated as an AB History major (1968) that Prof. Funtecha became a faculty member of UP in the Visayas. His original appointment was as an Instructor in Social Science on June 14, 1976. Beneath his quiet and unassuming persona lay a hardworking, persistent, and dedicated academician who became excited about travelling to other regions in the Philippines to observe and study their own history and culture and find similarities and distinctiveness vis-à-vis the West Visayan culture.
Perhaps it was these exposures to the culture of other regions that made him an ardent advocate of the preservation of West Visayan heritage and culture. Perhaps it might have started when he became the Coordinator of the Visayan Studies Program in 1984 or maybe as far back as the time when he was still a history student. Nonetheless, having been the Coordinator of VSP several times, and eventually becoming its first Director when it was elevated into the Center for West Visayan Studies, Prof. Funtecha had the opportunity to establish and strengthen studies and research on the Visayan heritage and culture.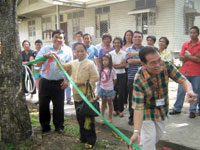 Dr. Funtecha (right) during the opening of the Interactive Museum.
His tireless effort paid off. Research and studies in West Visayas history and culture gained momentum, acceptance, and respect in the academic community. Furthermore, if there is one highly significant and lasting legacy that Prof. Funtecha had given to West Visayas, it was the establishment of the annual Conference on West Visayan History and Culture. Now on its 20th year, the Conference started way back in 1989.
Thus, Prof. Funtecha's passing away on October 15, 2009 stunned the UPV community with its suddenness as well as its great loss. This was what IPO Director, Prof. Ma, Joji Tan, observed as the news of his death became known. She added that people's reactions shared a common thread, that is, they all have something good to say about him.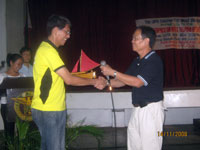 Dr. Funtecha (right) hands out a symbolic baroto.
As a tribute to this humble and dedicated academician, one of his students, two of his colleagues, and one staff of the CWVS, representatives of the people he had closely worked with and whose lives he had deeply touched, were invited to give their final homage.
Alora Grace P. Barotinico
BA History IV
HE was known as Dr. Henry Funtecha, but to us he was "Sir Henry," our teacher in History 112: Colonial Philippines II, and also my thesis adviser. In the beginning, we thought that he was one of those "terror" teachers but eventually found out that he was not. In fact, he was kind, understanding, and approachable. He made learning fun by allowing us to openly exchange ideas without the pressure of being marked wrong. Our class was more like a tea-time chat or gossiping with our best friend.
In class we did not only learn history but also talked about social and economic issues, parent-child relationships, animés, celebrities, generation gap, and everything related to the complexity and beauty of life.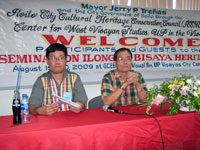 Dr. Funtecha (right) during the Ilonggo Bisaya Seminar.
If there is one thing that stands out about Sir Henry it would be his patience especially in dealing with his students. Never once did he raise his voice or lose his temper in class. He always exuded a cool and calm aura. I think the word "angry" was not in his vocabulary. He was also kindhearted. Much to our surprise, he once told us that he would cry over a telenovela, especially when he saw that people got hurt. That he was not ashamed to admit this made him all the more endearing to us–earning our respect.
In our class, Sir Henry loved to talk and shared his wisdom with us. One of his favorite topics was the gap between his generation and our generation, and he would always point out that we are fortunate because of the many comforts we enjoy brought about by the advances in technology. Yes, our generation is fortunate, even more so because of teachers like him.
I don't want to say goodbye him, because to do so is an admission that he is really gone. But he is not really gone because the values and the wisdom he imparted remain among us–his students.
Randy Madrid
University Research Associate, Center for West Visayan Studies
AS CWVS Director, Sir Henry was like a "father" to us. He always saw to it that things in the office would run smoothly and, most often, lent a helping hand. Above all, he really put a personal touch to all the activities we had through words of concern and inspiration. He led, served, and built a kaleidoscope of colors in office work through dedication and fun. I will surely miss his reminders and "fatherly" advices especially those concerned with health and wellness.
This is also my fondest memory of him — his constant reminders that I should watch what I eat, eat in moderation, exercise and not to spend too much time worrying about things.
Prof. Tita S. Torio
Associate Professor in History
Division of Social Sciences
College of Arts and Sciences
I HAVE known Henry as an administrator, colleague, and friend for about 30 years. He served as the 3rd coordinator for the Visayan Studies program (VSP) and, subsequently, the first Director of the Center for West Visayan Studies.
He was highly respected for his vision for the Center and admired for his dedication and pragmatic approach to office concerns. I should know. I was one of his Research Assistants at the VSP in the early 1980s.
In 1988, I became a faculty member of the Division of Social Sciences. Henry was very supportive of the new faculty. Since we both belong to the field of History, he encouraged me to present papers at the local and regional conferences and gave me an opportunity to get my papers published.
In the early 1990s, I came to know him better or, up close and personal. He asked me to be a godmother to his youngest son, Agafel. Since then, my visits to his home were no longer just for official reasons.
He was a loving husband to Nelly and a doting father to his three sons. He even had pictures of his family on top of his desks at CWVS and at the Social Science faculty room.
He also loved poetry (he would write poems while waiting for his wife at coffee shops), music, (he encouraged his sons to play musical instruments), and gardening. He brought fruits from his garden to our tables. He and his wife comforted me during the time that I was stricken with cancer and after our house was devastated by typhoon Frank.
He made me feel like a member of his extended family.
I will surely miss him. His passing is a big loss to his family, friends, the University and the Region for he was a kind and caring person, a diligent teacher, and the most prolific historian of Western Visayas.
Prof. Ma. Luisa Mabunay *
Professor in History
Division of Social Sciences
College of Arts and Sciences

My Dear Friend, Dr. Henry F. Funtecha
It is never easy to say goodbye to a beloved friend from among your own colleagues. And Henry was surely one of mine.
From the time he joined us at UPV in 1976, his sober and realistic take on life – and what it had to offer – often tempered the frivolous, unthinking, and wayward directions our discussions at the Division of Social Sciences of the College of Arts and Sciences. He was nurturing, considerate and thoughtful – weighing his wise words carefully. He was a fair-minded person and a good arbiter. Wala gid siya ga-witi-witi.
Quiet, unassuming, and entirely reliable – that was Henry – as most of you here would agree. Moreover, he was one who made his friends feel protective that he was not disturbed or ruffled of his trademark calm – not that he needed it. But I know of at least one other who – like me – had the occasion to act as a fierce guardian of Henry's good name and interests. Unlike him, not many people realize that when I am mad, I cry! I was also touched when at our last time together – about a week before his demise – he reminded me of the significance of my work, just as he had always done so for others.
I see Henry as the epitome of a steadfast and dedicated professional who persistently sought to improve himself. He had travel opportunities, made numerous publications, and led or got involved with various academic and church activities. In the process, winning a house and lot was a windfall! He pursued and earned his doctoral degree without fuss or fanfare. But when he was asked to be nominated for the deanship, he graciously declined. He opted to hold on to his priorities to prepare for retirement, have a more relaxed time with us, and to see more of the world with Nelly and their sons.
Alas, he has gone beyond this life! Goodbye and Godspeed, my dear friend, Henry.
Your colleague,
Meloy Mabunay
* Delivered during the Necrological Service of Prof. Henry Funtecha on October 22, 2009 at the University Chapel of the Central Philippine University, Iloilo City.