PURR
Rediscover CASITAS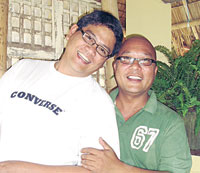 Edgar Suelo with good friend Dado Tan.
The new Casitas has opened along Jalandoni Street, Jaro (beside Makro) and promises to give diners good food and excellent service amid a carefully and beautifully landscaped environment. Trust Edgar Suelo, owner, who happens to be an architect, to design the place in such a way that one could comfortably dine and wine with family, friends and colleagues.
Casitas is also known for its, well, "casitas", little cottages where you can sit on huge throw pillows while dining. Some "casitas" are found surrounding the main restaurant, just in case you'd like to kick off your shoes and savor the flavors of the place.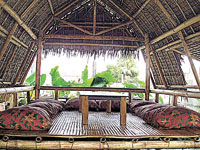 The 'casitas'.
The blessing and opening of Casitas was quite special because it was also the birthday of Edgar. Present were his close friends, clients and friends from the media who took part in a sumptuous luncheon with him.
For the regulars of the old Casitas, it's time to rediscover your favorite hang-out place. For those who have not tried Casitas yet, you're in for a great discovery.