Jerson Janeo: The model to watch out for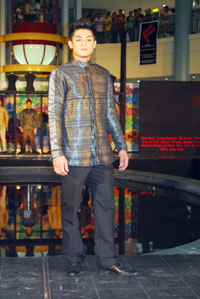 Jerson Janeo, Robinsons Campus Fashionista 2009 (Male).
JERSON Janeo lit up the runway of the Robinsons Campus Fashionista 2009 with his presence. His ability to carry any clothing assigned to him as well as that rare X-factor, have made him the favorite of the judges, thus winning him the title of Robinsons Campus Fashionista 2009 for the male category.
This 22-year-old takes up Bachelor of Science in Maritime Information Technology at John B. Lacson Foundation Maritime University. Friends describe him as happy, friendly and fun to be with. When he's not busy in school and in modeling assignments, Jerson plays basketball, computer games, watches TV and whatever activity that he feels like doing at the moment.
Get to know more about his Robinsons Campus Fashionista 2009 experience and more. The interview ...
Kathy M. Villalon (KMV): What made you join Robinsons Campus Fashionista?
Jerson Janeo (JJ): When I was at the gym, I met Marlon, a well-known model here in Iloilo City. Unexpectedly, he invited me to join Campus Fashionista at Robinsons. I was surprised by his invitation because I never thought that I have that potential to join that contest but I said yes to him. It was also my dream to be a model and I wanted to give it a try even though I was worried about my height. I thought of the things that I was going to learn from the contest and that I have nothing to lose except for my fats (laughs).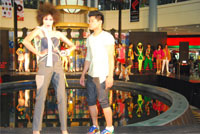 With Anna, Robinsons Campus Fashionista 2009 (Female).
KMV: Have you done any modeling jobs before the search?
JJ: Nope, it was my first time at Campus Fashionista and I really felt so nervous during the contest.
KMV: What's your unforgettable experience and lessons learned during the search and why?
JJ: To be in front of the crowd for the first time and also to be in newspapers and magazines (grins). I really learned a lot from joining Campus Fashionista not only with the way I walk on the runway, but also how to improve myself and build more self-confidence. Actually, I didn't expect to win this contest. I'm thankful to Marlon for convincing me to join and to Mr. Bo Parcon for the ideas on how to be on the runway. Also, I'm thankful for my family and friends for their support as well as the finalists who became new friends.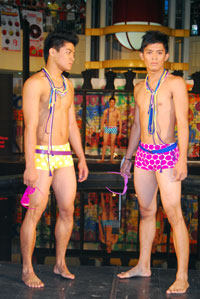 With a fellow contestant.
KMV: After Robinsons Campus Fashionista, what's next for you?
JJ: I'm still studying and I only have one semester left before I graduate. So, I shall focus on my studies first. But if I'm invited to join some modeling stints, I'm willing. I think I can do it without affecting my studies
KMV: Who's your favorite model?
JJ: Of course Ria Bolivar. She's my favorite not inly because she's an Ilongga but she's really good when it comes to a runway. I wish we could have a show together (smiles).
KMV: Who are your favorite designers?
JJ: Iloilo's very own top designers like Bo Parcon and Jaki Peñalosa.I really like their designs. I also like some of the young designers here.
KMV: During fashion shows, you get to wear the designers' style? What is the Jerson Janeo style of dressing?
JJ: As soon as I feel very comfortable wearing certain clothes and if it's simple, I could say it's my style. I like high cuts and sneaker shoes, semi-fit T-shirt, polo or long sleeved top. It's the same with pants. For my accessories, I could wear any as long as it matches my outfit.
KMV: Are you willing to model for undergarments?
JJ: Of course, yes. Because as a model, you should be willing to wear any type of clothing. You can't really just choose what do you want to wear in a show. A designer will be the one to decide what kind of clothes are we going to wear. And bawal daw maarte (laughs). If i'm going to be an undergarments model, I'll be happy. It means na bagay ako dyan (laughs).