Robinsons Place Iloilo Cheers Up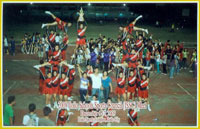 LAST month, Robinsons Place Iloilo organized a Cheer Dance Team Competition, held at the event centre of the mall. It was entitled "Robinsons Place Iloilo Cheers Up Cheer Dance Team Competition."
Three participating groups from different academic institutions in Iloilo swayed their hips and flew to the air with their terrific lifting stunts and awesome dance moves.
Fresh from winning the 2009 Iloilo Congressional Integrated Meet Cheer Dance Competition, Oton National High School Pep Squad won. It's composed of 15 girls and 15 boys. They had three months of preparations.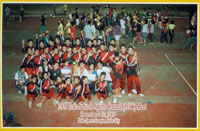 The theme of their presentation was molded through the collaboration effort of the students and school administration. The dancers showed tremendous, energetic and breathtaking performance. During the final event, the dancers perform a 7-minute routine utilizing jumps, dance, cheers, toss, stunts and transitions. They consider their performance as a master piece of their unity and collaboration.
Sheila Masculino, co-trainer, said, "The attitudes and values of the dancers for aiming excellence is the secret of winning. Added with the determination, discipline and constant training through the dedication of our choreographer Eliseo Mendiola and co- coach Belinda Ravena, coupled with the usual support of our beloved principal Dr. Lourdes C. Morones, the entire academic community of ONHS, parents and ever supportive Local Government Unit of Oton Headed by Hon. Mayor Vicente Flores Jr and the support of the community and above all our faith in God, for we always believe to God Be The Glory."
Along with these achievements, ONHS Pep squad dreams to continue their journey in the field of cheer dancing, until they reach the national level.