Jay Cayuca performs in Emilion on Jan. 22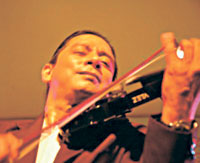 Jay Cayuca during his concert at the Shangrila.
Jay Cayuca, premiere musician will render a unique musical presentation with his violin as his instrument at Emilion Function Center, Gen. Luna on Jan. 22, 2010.
This legendary 21st century Filipino violin virtuoso promises more than precise and expressive notes on stage—he captivates the audience with his boundless energy, exceptionally superior talent and striking good looks. His passion for the instrument and performing is highly evident in his flawless strokes and up-to-beat bodily movements. No other violinist in the world matches his unique total showmanship.
Jay Cayuca was raised in a musically-inclined family in Agusan. He took violin lessons at a very young age. During his formative years, he has developed an inclination towards classical music. Later, he got exposed to pop music and decided to merge them, creating a classical-pop music that was then attributed as his trademark. With his unique musicality, he has performed with several huge names in the music industry such as Regine Velasquez, Sharon Cuneta, Kuh Ledesma, Zsa Zsa Padilla, Lea Salonga, Randy Santiago, Agot Isidro and many more. He was also the man behind the success of the League of Cayuks Band, being its musical director.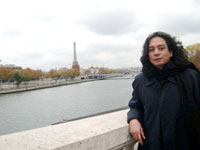 During his trip to Paris, France.
"I like to infuse different kinds of music, so that there will be balance and also so that people will learn to appreciate different kinds of genres. I have always played music that makes me feel good, because I believe this way I have a chance to reach my audience and ideally have them feel first-class about what they are listening to. As my tastes develop, so does my playing. Every year, my style changes and expands. Still, I never let go of my classical background, which mainly differentiates my style from the others. I really enjoy mixing things up for flavor and at the same time find an emotional impact to ever piece for a more refined and musical style as I mature," Cayuca said.
Jay has mastered all musical genres—be it classical, contemporary rock, jazz and pop, and has traveled the world performing for a wide range of audiences which include presidents, prime ministers, religious leaders and dignitaries, and relishes having performed in venues such as the majestic Grand Cayman Islands to mysterious, exotic caves in Palawan.
Don't miss Jay Cayuca as he performs along with the Exposure Band. For tickets or reservations, call on or before Jan. 18, 2010 at numbers 5088882, 3374292 or 09228989139.
This dinner show is brought to you by Emilion Function Center in cooperation with Coca Cola, Fit 'n Right, Mang Inasal, Cal's, Bluejay, Sommelier Wine Club, ABS-CBN and The News Today.