PURR
Amigo's grand 25th anniversary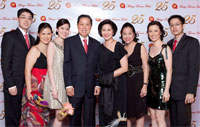 Gerald Uygongco, Rovina Uygongco, Ethel Valencia, Alfonso Uy, Aileen Ongkauko, Chinchin Uygongco and Kenneth Uygongco.
Amigo Terrace Hotel celebrated its 25th anniversary last year with a fabulous party for a cause. The event started with a presentation of the hotel. Then, the audience was fully entertained by a dance number of the Russian Dreamgirls.
Alfonso Uy, chairman of the Uygongco Foundation, gave his opening remarks followed by a sumptuous dinner prepared by guest chefs.
During dinner, the guests were entertained by a performance by the Bo. Obrero Elementary School and Nabitansan Elementary School students. The said schools are beneficiaries of the Uygongco Foundation, which was also launched that evening. The foundation will provide scholarships and assistance to varied schools in Western Visayas.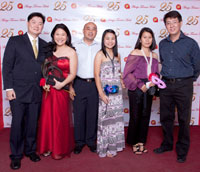 Mr. & Mrs. Terrence Uygongco (left) & friends.
To help raise funds for the foundation's projects, an auction was held, with Edu Manzano as the auctioneer.
It was followed by a ceremonial toast for the anniversary celebration as well as the foundation's launching, synchronized with a grand fireworks display.
Richard Poon and his band performed to the delight of the guests. It was followed by a message of thanks from Gigi Sy, events director and a closing remarks by Gerard Bilbao, general manager of Amigo Terrace Hotel.
It was learned that the hotel will undergo renovations this March in order to give Ilonggos and guests a more modern and improved hotel.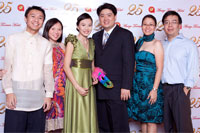 Roy & Tracy Sio, Cathy & Julian Uygongco, Liz & Roger Coo.
At present, the hotel has 100 guest rooms including the suites at the fourth and fifth floors overlooking the city and its environs. The rooms have wall to wall carpet, hot and cold batch with tub on all suite rooms, IDD and NDD telephones, Wi-Fi hot spot, cable TV, individual air conditioning system and coffee & tea making facilities in all deluxe and suite rooms.
Some guest services include the swimming pool, news stand, safety deposit box, car rental, ticketing office, barber shop and beauty parlor, valet parking, local tour arrangement, room service and shopping mall.
Indeed, being in Amigo Terrace Hotel has its perks because it is in the heart of the city. Just below it is the Amigo Plaza Mall that is complete with shops that cater to your every whim.
Amigo Terrace Hotel is located at corner Iznart and Delgado Streets, Iloilo City. Its telephone number is (033) 3350908, fax number (033) 3350610, e-mail address is amigoterrace@yahoo.com and website at www.amigoterracehotel-iloilo.com.
Its Manila booking office is at the 12 Floor, Unit E of the Ramon Magsaysay Center, 1680 Roxas Boulevard, corner Dr. Quintos Street, Malate, Manila. The telephone numbers are (02) 5242264 and (02) 5213166 local 171 and 182 and fax number (02) 5243733.