IRISH ESPESOR
Young artist brings her art to the world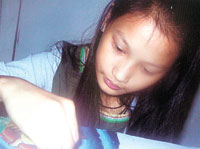 Irish Espesor continues to reap awards in art competitions because of her surreal approach and unique creativity.
UNLIKE other artistic kids, Irish Espesor did not show any inclination towards the arts when she was little. This is according to her mother Jackeline. But when she was in Grade 5, it was Jonathan Jaleco, her adviser and an artist, who saw her distinctive style in her artworks.
"When I gave her instructions on what to piece to do, she added some creative elements on it. That was when I saw that she has potential," said Jonathan.
Since then, Irish's artistic talent was given a boost through the support of her mother, her father Ernie, adviser and Dymphna Leizel Jocson, principal of Ticud Elementary School where she is a Grade 6 student.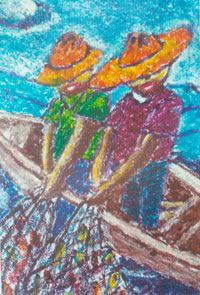 Entry to the World Picture Contest.
Her style borders on the surreal, wherein she loves to distort elements in order to convey different meanings. Although she can make artworks out of any popular media, Irish prefers pastel. "With pastel, it's easy to mix the colors," she said.
She was awarded as the Best Artist for the Tatsulok Summer 2009 Workshop, won first place in the Bureau of Fire Poster Making Contest held in 2009, first place in the Iloilo River Week Poster-slogan Contest in 2009, first in the Poster Slogan Contest in relation to the school's celebration of Science Month in 2009, a regional runner-up in the World Food Day organized by the Department of Agrarian Reform and she's a contestant in the World Children's Picture Contest, the result of which will be announced this year.
Irish said that the World Picture Contest (normally held in Japan) is her most challenging competition so far because the artwork has to be unique and should be a piece made by a child. Somehow, the judges will know if that piece had been touched by an adult or someone else other than Irish. Thus, Irish continues to prepare for this big competition by constantly practicing with Jonathan every afternoon.
Amid preparations for this international art tilt, Irish is busy making good grades in school, being a consistent achiever. Her academic standing and art prowess did not escape the attention of two big high schools in the city who are trying to woo her into enrolling in their school this June 2010. She's graduating this March.
But for the meantime, Irish is taking one step at a time, one art competition at a time with so much passion and promise.