2010 Dinagyang Autocross to be held in Iloilo again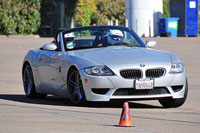 Autocross Car Racing is a low-budget automotive competition at the most intense level. No other form of motorsport in the world is quite as intense and heart pounding as autocross racing. The best part of this event is that any car is eligible to join. Low-budget in the sense that you don't have to spend much for your car to join and win. If it's a vehicle, and you have a driver's license, you can participate. Some people have even learned how to drive their cars better by participating in autocross events. The one thing about autocross is that driving skill will always beat expensive car modifications. It is 70% driving skill and 30% car. Even if you have the fastest car but low driving skills, a certain driver with very good driving skills will beat you with just an ordinary family car. That's why autocrossing is really fun.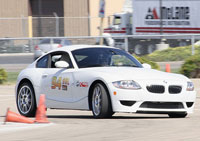 Ground Effects and SM City has been successful in its partnership of organizing Autocross Racing here in Iloilo City. For two successful events already, Autocross Car Racing has proven to attract not only all the car enthusiasts here in Iloilo but also all other spectators of all walks of life from all parts of the region.
The partnership of Ground Effects and SM City in organizing the Iloilo Auto Cross Racing Competition is always a big event here in Iloilo City. The race is usually a 3 day event where the huge parking lot of SM City Iloilo is converted into a race track for autocross racing.
During the past two Autocross races, it can be noted that the event indeed attracted a large amount of Ilonggo families that went to SM City Iloilo not only to watch the races but also to enjoy the different cars that were parked for show purposes.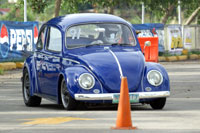 This January is the Dinagyang season. Iloilo is again at the centerstage of Philippine tourism. Many people not only from other parts of the Philippines but also foreigners will visit our city for this world famous feast. It is also in this feast that Ground Effects introduced the first Autocross Racing here in Iloilo City before. This Jan. 15, 16, and 17, Ground Effects, the biggest car accessory chain in Iloilo since 1995 & SM City will hit Iloilo by starting the Dinagyang week with its Autocross car racing competition. This will be open to everyone who wants to show how good they can drive their own cars. Different classes are set from stock cars, lady drivers, super stock to modified cars. So the more classes you join, the more chances you will have to win prizes.
This autocross car racing championships is also brought to you by: Councilor Joe III Espinosa, Pepsi Cola, Advanti Wheels, Duro Tires, Konig Wheels, Karat World Jewelry, Freska Ilonggo Restaurant, Liquor Center and JDM Auto Parts.
For more inquiries please contact: Gus Banusing Jr. of Ground Effects 033-3013200 or 0920-9213949.