TWILIGHT
Travel Exhibit a success with DOT Support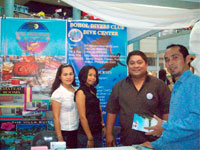 Bohol Divers Resort in Panglao, Bohol
joined the exhibit inviting more Ilonggos
to visit their resort.
The recent 4th Western Visayas Travel Xchange 2009 held in Iloilo City was successful all because the Department of Tourism supported the endeavors of the exhibit organizers who were able to invite exhibitors from Bohol, Mactan Island, Province of Capiz,Boracay Island, Roxas City, Negros Occidental, Sta. Rosa in Laguna, Bacolod City, and Iloilo City.
It was an impressive event held for the first time in Iloilo City. DOT Regional Director was all in support of the event as private entities like Mang Inasal, Acclaim Print Services, Ocean Jet and Nature's Spring Water assisted the organizers.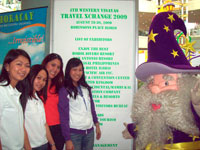 Enchanted Kingdom girls pose with
Eldar their mascot.
Some of the exhibitors were Cebu Pacific, Mang Inasal, Negros Navigation, Acclaim Express, Enchanted Kingdom, Days Hotel Iloilo, Bohol Divers Resort, Microtel Hotels and Resorts, Mambukal Resort, San Antonio Resort, Capiz Visitors & Convention Bureau, Kasal.com, DOT VI, ONEMGM Boracay Resort & Convention Center, among others.
We had a nice tour of the exhibit booths that offered travel packages at affordable rates. Travel Xchange event organizer Charles Lim welcomed Your Twilighter as door prizes and games went on to make the event a fun-filled 3-day happening in Iloilo City.