Ordinary women are not so ordinary mothers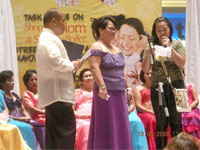 Bulawanon nga Nanay finalists during
the interview.
Remembering the immeasurable love and care of mothers last Mother's Day, the city government through its Iloilo City Task Force on Street Children initiated the first Search for Bulawanon nga Nanay 2009.
The search aims to find the poorest mothers who surpass the hardships and challenges of poverty by raising her kids well. The finalists were chosen among the city's poorest families whose income did not exceed Php10,000 a month.
Out of top 14 nominees interviewed on Mother's Day, Rosalia Servandil of Brgy. San Isidro, Lapaz, won as the ultimate "Bulawanon nga Nanay".
Servandil raised her kids by working alone because her husband suffered from illness. Despite being the sole breadwinner of the family, her children are now working as Civil, Computer and Marine Engineers and Accountant.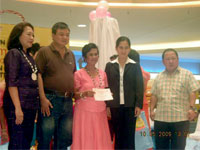 Nanay Rosalia Servandil, Bulawanon
nga Nanay 2009.
Meanwhile, a widow of Brgy. Calajunan, Manduriao named Carmelita P. Meniel won as first runner up.
Meniel worked as a tricycle driver to have extra income in order to support her four kids. She is also receiving an honorarium for being the barangay chairman of Calajunan.
"Bulawanon nga Nanay" second runner up was Trinidad Omagap of Brgy. Rizal Pala-Pala, also a widow with five children.
Omagap accepts laundry as well as offering manicure and pedicure services just to raise enough money for her family.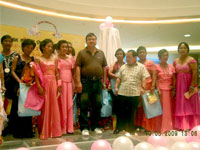 Mayor Jerry P. Treñas and the finalists.
According to Rosalie Treñas, chairman of the task force, the event served as an avenue to honor the mothers for their strength in facing poverty and rearing their kids well.
"I'm happy to see that for the first time, children express their feelings to their mothers because of this program", she added.
Servandil received a cash price of P10,000 and dresser from Toyota Iloilo. Meniel and Omagap received P7,000 and P5,000 respectively.
Each of the winners received gift packs, bags from Mrs. Trenas and a round trip ticket to Manila by Negros Navigation.
Their respective barangays and city social welfare offices also brought home consolation prizes.
The 11 remaining finalists received P2,500, bags from Mrs. Trenas and gift packs each.
The event showed that poverty is not a hindrance for education. It also serves as an avenue for the children to give tribute to their mothers.
Mayor Jerry P. Treñas, guest during the awarding ceremony said that the kind of citizen the city have is a product of how their parents raised them.