1st Bacolod Inasal Festival: An attempt to a world record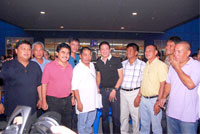 Senator Escudero and Mayor Leonardia
with newly inducted NPC members.
Bacolod City has another festival to look forward to every year in addition to the world renowned Masskara and Bacolodiat Festivals.
This year, the city celebrated its first Inasal Festival that culminated with an attempt to establish the longest "chicken inasal" grill in the Guinness Book of World Records.
The chicken inasal of Bacolod has an incomparable distinctive flavor that it has become a must for local and foreign tourists visiting the city to go to the Manokan Country in the Reclamation Area to dine on chicken inasal alone. The festival also aims to establish a worldwide awareness for the Manokan Country as one of the tourist destinations in the city.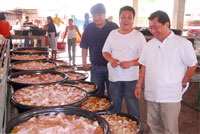 At the marinating section.
The festival was the idea of Bacolod City Mayor Evelio R Leonardia, who, eversince had been part of the development of the chicken inasal industry in the city. Councilor Alex Paglumotan brought into reality the concept and was the prime mover in the preparation and implementation of the festival.
The guest of honor during the launching of the attempt to establish the world record as the longest "chicken inasal" grill last May 19, 2009 was Senator Chiz Escudero.
The current world record for the longest grill in the Guinness Book of World Records is being held by Dagupan City, Pangasinan for having a 3.8 kms-long Bangus grill.
The Bacolod City's attempt to break the world record is a 3.985 kilometer - "chicken inasal" grill that utilized 62,000 "chicken inasal" sticks, which were marinated just overnight and prepared on the same day it will be cooked in accordance with the pre-requisite of Guinness in making the world record.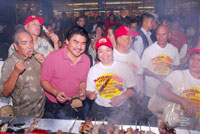 We love Bacolod's chicken inasal!.
The world record attempt was witnessed by 20,000 Bacoleños who also participated in grilling and eating their own chicken inasal. There were plenty of grill space and chicken inasals to cook that people who flocked to the venue truly had a feast.
The festival committee actually had prepared 68,000 sticks of chicken inasal and further added by a donation of 700 sticks from the Manokan Country Vendors Association and 800 sticks from Vice Mayor Jude Thaddeus Sayson.
Kudos to the thousands of volunteers assembled by Councilor Paglumotan who made the preparations for constructing the grill in five days and preparing the marinated chickens into inasal sticks in just a day!
It was a real treat for the people and surely a new festival for Bacolod City was created with an entirely different character, as distinct as the Bacolod Chicken Inasal!