Bayani Fernando visits La Carlota City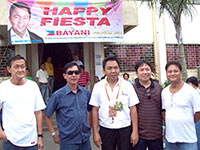 MMDA Chairman Bayani Fernando is
welcomed by government officials led by
La Carlota City Mayor Demi John Honrado
in his recent visit to the city.
La Carlota City Mayor Demi John Honrado was proud to have MMDA Chairman Bayanai "BF" Fernando as his guest recently when Fernando paid a courtesy call to him and the city officials of La Carlota.
Fernando also met the government employees of that city along with some residents as he was similarly honored to have visited Negros Occidental.
In his visit, Fernando was asked by councilors of the city as to how he was able to manage to maintain a 9-year term as Marikina City Mayor and fully succeeded in his efforts to bring Marikina City as the Cleanest City in the Philippines with the most-disciplined Filipino residents.
Fernando simply told the government officials present, "It is simply the political will of a leader to bring to his constituents the building of their character." The MMDA chairman shared with everyone present that government leaders must not be afraid to lose votes as many Filipinos would prefer to have discipline instilled than none at all.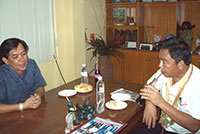 Mayor Honrado shares to Chairman
Bayani his concerns for his constituents
in La Carlota City.
In his recent visit, Fernando was happy to see that La Carlota City is a developing city of Negros Occidental and he further stressed, "dapat ipakita nating lahat ang galing ng Pilipino.
Before Bayani Fernando was appointed Chairman of MMDA or the Metropolitan Manila Development Authority where he succeeded Benjamin Abalos, Fernando was city mayor of Marikina for three terms where he succeeded in converting Marikina City as a very progressive city of Metro Manila.
He exerted all his efforts to remove all sidewalk vendors in the city but gave all the Marikina resident vendors a place to sell their wares. Fernando stressed that in his term as Marikina city Mayor he has not put any single person to jail for any violation of law.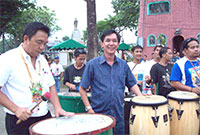 Chairman Bayani tries out the
drumbeating with Mayor Honrado.
Fernando's effective governance was to build structures and then followed by building character and these acts resulted to discipline among the people.
It is the political will of Fernando that made his governance succeed and appreciated by the residents. As MMDA Chairman, he has earned the ire of some politicians and residents but in the long run more Filipinos love what he is now doing to Metro Manila.
Many Filipinos insist that Bayani Fernando is the Man of Change who could Bring Filipinos a Brighter Future. Many leaders of this country want him to be the national leader for a real change for a better Philippines.