A certain kind of magic!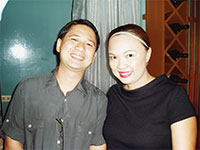 Gus and Pauline Banusing.
Culinary Wiz Pauline Banusing of the renowned bistros - Al Dente, Freska and Maki and now the 101 Luna located at the posh Sarabia Manor Hotel and Convention Center celebrated her "29th" birthday with an exclusive sit down dinner for 35 selected guests. The 101 Luna with its minimalist interiors reminds me of a typical New York resto bar. Two musicians in dark suit complete with black hat and shades playing lounge music on one corner complimented that very New York feeling.
The birthday girl was in a simple black sheath with husband Gus beside her, was certainly over the moon that night when she wined and dined her guests to the max. Spreading her radiance all over and her personal brand of magic on her sleeves, Pauline B.(which only she can do with no effort dearie) had almost everyone transformed in a New York state of mind!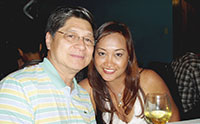 Helen Stummer with Dr. Hector Salazar.
Served before dinner was her Grey Goose Vodka concoction which had me asking for second fillings in no time in between my air kisses and hugs to arriving guests. Dinner started with Broccoli Cappucino Soup followed by (hand held) Ceasar's Salad and to cleanse our palette -the Sorbet Pistachio. Next served was the delightful Maki Maki Fillet with Fresh Coriander which simply melts in your mouth. For her piece de resistence Pauline prepared the heavenly Wagyu Beef Plate presented in generous portion which of course yours truly finished all with gusto paired with Jacob's Creek red wine! Desserts made up of different chocolate and pastries were passed around which I dared not to touch (all right, I had one chocolate) for my eyes zoomed in to the newly opened bottle of bubbly Krug champagne.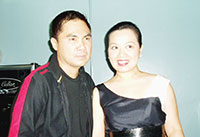 Trix and Marrisa Gorriceta.
After dinner, with a light head from all the alcoholic nectarines consumed, my butterfly instinct got the better of me and started to fly from one table to another. I had a great time interacting with all those interesting people at the party. Pauline B. the ever top hostess, was so clever to have little colorful Buddha (magnetic note clips) as give-aways which I gathered she discovered during her recent trip to Singapore. Just perfect for reminders and must-not-forget notes for busy people like me! Cheers!