PURR
Robinsons Place Iloilo's Neo Chef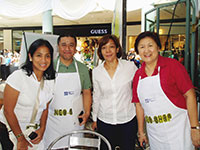 Gaita Fores, Nilo Mapa, Ditas Taleon and
Mickey Fenix.
Robinsons Place Iloilo has a Neo Chef Pair for 2009 and the team consists of Jim Bobis and Benedict Benedicto. The team also won the Best Table Setting award.
At second place are Michelle Joy Tagarda and Walter Tagudando and third place are Joely Artillo and Mark Errol Salvador. All of them were trained by Miner del Mundo, a chef and food consultant of several credible restaurants in Iloilo and some parts of the country.
The other teams were: Leodi Pabelona and Ralph Dayot, Anne Dette Masa and Pearly Mae Espiritu, Jason Phillip Jacomille and Dennis Bernales, and Lu Martin Dalisay and Jan Joe Gino Dubria.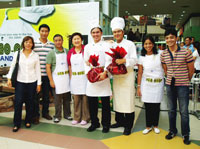 Jim Bobis and Benedict Benedicto, 1st
place winners with the judges and
Robinsons Place Iloilo officers.
Society chef Margarita "Gaita" Araneta-Fores, an Ilongga who has made waves in the culinary scene of Manila, took time to be one of the judges in this prestigious search. She was joined by Mikaela "Mickey" Fenix, author of many best-selling cookbooks, Editor-in-Chief of Food Magazine and columnist of Philippine Daily Inquirer; and Nilo Mapa, Robinsons Place Visayas Branches General Manager.
The event was sponsored by Unilever Foods, UFC-Heinz, Del Monte Phils., Picture City, Al Dente, Sarabia Manor Hotel and Convention Center.