The Shangri-la Tanjung Aru Resort and Spa experience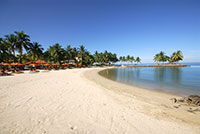 The private cove.
"He liked the serene world that Shangri-La offered him, pacified rather than dominated by its single tremendous ideas. He liked the prevalent mood in which feelings were sheathed in thoughts, and thoughts softened into felicity by their transference into language." - from the book Lost Horizon
One of the best trips you could take is a trip to Kota Kinabalu, the capital of the Malaysian state of Sabah at the northern tip of Borneo. This 25-acre island boasts of beautifully landscaped gardens and surrounded by the waters of the South China Sea.
A stay at the Shangri-la's Tanjung Aru Resort and Spa makes the trip even better. This is considered as one of Asia's most exotic retreats, just a few minutes from the Kota Kinabalu International Airport. It has 492 beautifully appointed rooms made of natural timber and indigenous fabrics. Each room has a balcony that offers a view of the beautiful gardens, the serene sea and the outlying islands.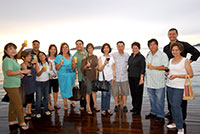 A group shot during the welcome
coctails hosted by GM Philip Dewar.
The resort is also a haven for lovers of different cuisines. Their restaurants and bars are: Peppino for Italian good, Shang Palace for those who love Cantonese cuisine, Coco-Joe's for poolside dining and barbecue, Cafe TATU for Asian and Continental cuisines, Sunset Bar for light snacks, Borneo Lounge and Bar for entertainment and light snacks and Blue Note, a fun pub.
You'll never be bored at the resort. There are daily recreational activities like bird watching, blowpipe contest, water exercises, cooking demonstration, behind the resort tour, football, pool volleyball, garden exercises, floral decoration, beach obstacle race, volleyball, ping-pong contest, beach ski jog race, henna tattoo, pitch and putt tournament, belly dancing, human sting race, badminton contest, cricket, coconut leaf craft, waiters race, kite flying, coached tennis, traditional local wine tasting, family egg tossing competition, tug-of-war, watermelon eating contest, cocktail demonstration and potato pendulum.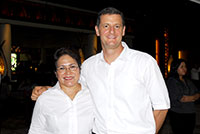 Tulip Noorazyze, Director of
Communications and Philip Dewar,
Resident Manager.
Perhaps the most exciting part of the Shangri-La visit is Chi, The Spa. It stands alone on its private island called Pulau Bayu, which means "Island of the Breeze."
It has eight private island villas. Each villa features private treatment rooms, lounging areas, steam rooms, outdoor gardens and bathing facilities. It also has a yoga pavilion. Their services fuse centuries-old healing philosophies and rituals from China and the Himalayas.
On your next visit to Kota Kinabalu, stay at the Shangri-la Tanjung Aru Resort and Spa. Visit their website at www.shangri-la.com