Binhi School of Creative Arts and Crafts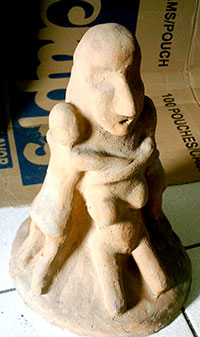 A terra cotta sculpture that echoes
mother and children relation.
The Binhi School of Creative Arts and Crafts is a charity project for the poor children and youth of Barangay Banago, Bacolod City who are willing to spend their extra time in art making.
The word "binhi" is a Hiligaynon term for seed. In context, it is a part of a flowering plant that contains the embryo and will develop into a new plant if sown. Like these young people, every work they do is a process towards self-growth.
The free education will mold the young to be productive. It's been proven that art has an educational worth that brings a wonderful effect on the person's personality. It's a venue for self-discovery, self-healing and discipline.
The group had a back-to-back Back to Mother Earth Exhibit at the second floor of Robinson's Place Bacolod last April 21 to 30, 2009. It was part of their involvement in the Earth Day celebration.