Iloilo National High School Class '59 turns gold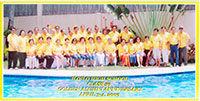 Golden Fellowship Day at Losanes Club
House, Gran Plains, Jaro.
The Iloilo National High School Class '59 headed by their class valedictorian Engr. Aurora Homena Alerta-Lim, held its Golden Jubilee celebration last April 3 and 4, 2009.
the two-day celebration's activities were: The Fellowship Day at the Losañes Club House in Gran Plains Subdivision, the General Assembly at the INHS MB Social Hall and the Golden Fellowship Night at Amigo Terrace Hotel.