International airports and ports are being closely monitored on Panay Island as health officials and local government units step up efforts to prevent the entry of the H1N1 virus. The Department of Health (DOH) is screening passengers and crew of ships from other countries docking at the Iloilo international port in Barangay Loboc in La Paz District.
With the continued rise in the number of Influenza A (H1N1) infections worldwide, authorities will set up monitoring at the Kalibo International Airport to prevent the entry of the novel virus into the country.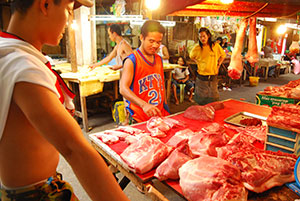 A.CHRIS FERNANDEZ
The city government is planning to utilize its about P900,000 share from the Electric Power Industry Reform Act (EPIRA) to put up a livelihood project for relocatees at the San Isidro relocation site in Jaro district here.
Mayor Jerry P. Treñas will go to New York, United States of America on June 2-3, 2009 to participate in the 3rd summit on the Meeting of the Minds with the theme "Rethinking 21st Century Urban Design and Infrastructure."