QUOTA CARES
Iloilo Quotarians interact with SOS Village kids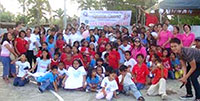 Quota with the SOS children.
In search of a beneficiary a Quota Cares activity in March, Quota President Marjorie W. Locsin and PP Kathy G. Lim visited S.O.S. Village early this year. As they entered the compound, they felt that leading them there in the first place was heaven sent. In no time, the details of the activity was set with the publicity officer of S.O.S. Village, Roquita Batogon.
S.O.S. Village was the brainchild of Austrian philantropist Hermann Gmeiner. In reality an orphanage with an added twist, this facility espouses a home – family care model where all "housemates, " is assigned a home under a house mother or house aunt. Mothers or Aunts are trained within the system and must be single. S.O.S came to Iloilo five years ago with eight homes within the compounperty donated by the Archdiocese of Jaro. Msgr. Meliton Oso serves as a community bod in a proard member. They now serve close to 200 kids with a few older kids who are siblings of a few little ones in the name of the need to re-unite and strengthen ties between them as generally these kids are within the care of S.O.S. until college or until they are able to support their own. By the time they must have certain skills and educational training that will allow them to move forward on their own.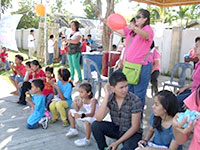 Quota Club of Iloilo thought it would be a good opportunity for kids from the Leganes Resource Center for the Deaf and some adult Deaf Ministry volunteers l to be there and to network with S.O.S. management and kids….as one may say, " getting to know one another and expanding horizons for some. "There were some student leaders of Sun Yat Sen High School, headed by Nicole Marie Locsin (daughter of Prexy Marjorie), who helped in facilitating the games.
Both S.O.S through Ms. Batogon and Quota International of Iloilo through PDG Lea Celis gave brief backgrounders of the organizations partnering for the entire afternoon. Altogether, there were slightly over 120 kids available. Some kids were allowed to be out for errands or activities at the poblacion to the club's disappointment however the service activity and fun proceeded.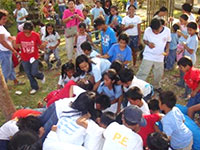 The games were administered by Iloilo Quotarians and special education teachers Bebot and Renz and LRCD teacher Nerissa together with an S.O.S. team.
After the games Iloilo Quotarians awarded prizes, delivered closing remarks but cannot bid farewell without saving the PABITIN and HITTING THE POT for last as everyone joined and scrambled for goodies. Everybody were all kids once again!
That was a hot and humid afternoon so everyone enjoyed sorbetero ice cream, fish balls, bread with coconut filling and fruit juice.
It was time to say goodbye but we are sure that the fun memories will linger in the hearts of everyone there. QUOTA ILOILO CARES.