Judgee's Birthday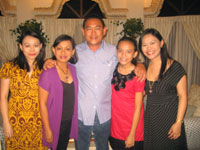 Judgee with daughter Risa, wife Sarah,
daughters Rica and Rita.
Avid RC (remote control toys dearie) collector and mega businessman Judgee Lopez Pena, celebrated his birthday at his posh Ledesco Village home with close friends, RC chums and family. Wife Sarah with his equally three beautiful and smart daughters namely Rita, Risa and Rica were in top form in helping entertain Judgee's many well-wishers and guests.
Culinary wiz Pauline Banusing of Al Dente provided the splendid dinner – Paella, Fish Fillet with Cream of Crab Meat Sauce, Beef Salpicao, Baked Chicken in Garlic and Olive Oil and Green Garden Salad, which had guests coming back to the dining table for more.
The party was just the perfect venue to see old friends and to exchange notes with the latest happenings in the social scene of the city. It was also a kind of going away party for the Pena family who will soon be leaving for their annual month long vacation to Europe.
It was a fun party indeed. Cheers.