1st Go Fish In-Shore Fishing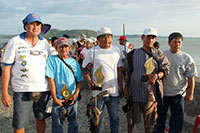 Bong Sanagustin (left) and the winners.
Fishing enthusiasts gathered to get the "perfectly good catch" and some cash prizes during the First Go Fish In-Shore Fishing Tournament held at the Iloilo Fish Port Complex. According to Bong Sanagustin, organizer, the tournament aims to promote awareness among fishermen or anglers about the need to preserve our marine sanctuaries by taking care of such.
There were 70 participants, most of them are clients of Go Fish, owned by Sanagustin. "It was also my way of thanking them for patronizing Go Fish. Thus, we gave out cash prizes, trophies and products like rods and reels," he said.
KMV: What are the gears needed in this hobby?
BS: Rod, reel, lures, line, sinker and accessories. Before, when I was starting off way back in the 1980's, one couldn't buy these gears locally. We had to order from the United States or other countries, thus it's expensive. That is why I thought of putting up Go Fish Tackle and Hobby Shop to cater to these needs. Now, you can buy a set of rod and reel with line for as low as Php600.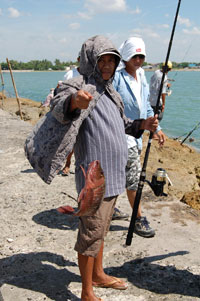 KMV: What's your advice to those who want to take up fishing as a hobby?
BS: Enjoy and cherish every moment of it! And what I call play. First, learn the virtue of patience. In fishing, you have to wait for the fish to bite and that would even take a whole day.
Learn every bite of fish that you encounter. We have a lot of fish species in the Philippines, so every fish have different characteristic in biting your lure, and by this, you have to outwit the fish in order to hook it, and that is the beauty of the sport.
Always be alert. You will never know when the fish will bite.
And at the end of the day it will be up to you. In fighting and landing a big fish, the competition will be between you and the fish, and it will be up only up to you on whether or not you will be victorious in landing the fish.
THE WINNERS AND THEIR CATCH

Champion
Edgar Lagansua
1.2k Mangrove Snapper(Managat)
1st Runner up
Sonny Giduriaga
.6k Lapu-lapu(Inid)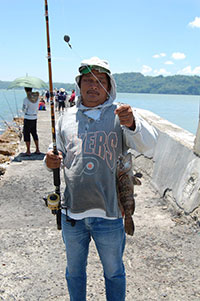 2nd Runner up
Vicente Magdael
.2K Black sweetlip (Bilbigan)
3rd Runner up
Rolly Sugyo
White Snapper (Gingaw)
4th Runner up
Junjun Anselon
White Snapper(Gingaw)
5th Runner up
Timoteo Salanatin
White Snapper (Gingaw)