PURR
Efforts for Children
The SOS Rummage Sale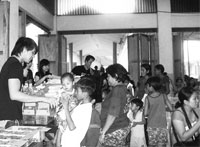 Ilonggos who were able to spare some stuff they don't need, donated their things to the SOS Children's Village and the latter held a rummage sale in order to raise cash from these. The money will be used for the different projects of the SOS Children's Villages, Inc. The goods were also shared to the 12 family houses and youth facility. SOS Children's Village houses orphaned, abandoned and neglected children. Each family house has a mother who takes care of these admitted children and aunts to replace the mother during the former's day-off. The purpose of SOS is to enable children who are at risk of losing the care of their family to grow within a caring family environment.
According to SOS, you can help make a difference by becoming a child advocate, a friend and donor (material or financial), an ambassador of SOS children to friends, a referring person of vulnerable children to SOS or a Christian, with your prayers for these children, for the caregivers and for the SOS organization.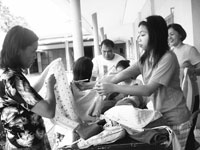 SOS Children's Villages, Inc. Iloilo is located at Rizal Street, Poblacion Ilaya, Zarraga, Iloilo. They can be reached through these numbers ((33) 525-4563 and (033) 396-1303 or e-mail to iloilo@sosphilippines.or.
A fun run for kids
The kids were the stars during the Leganes Kids Fun Run held last April 21, 2009 at the Leganes Plaza. The activity, already on its third year, was held in line with the municipality's fiesta and supports its Children Friendly Program. According to Councilor Allen Españo, the event encourages parents to bring their children in the plaza to play rather than staying most of the time in malls, watching too much TV or playing computer games.
Españo further informed Purr that the municipal officials are on its legislative process of enacting the Leganes Children's Code.