TWILIGHT
A Land Drive to Cebu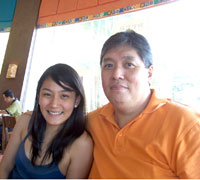 Step with Daddy Mike Villanueva at the
Mooon Cafe.
It was timely for the Holy Week that I got invited for a travel to Cebu with friends Mike and Jean Villanueva with Children Carla V, Miggy and Stephany joining us along with Baby Sophia J.
The cool drive via Mabinay ending up at Amlan of Negros Oriental and a roro travel via Maayo Shipping vessel brought us to southern Cebu at Santander then a cool coastal drive to Cebu City.
Fernando Yap of Capitol Tourist Inn extended us his hospitality with his accommodation and treat of lunch and dinner. We had a time at Hadsan Beach and a visit to other places to experience the barbeque and lechon treat in Cebu.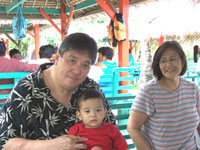 Lolo Mike V and Lola Jean with Mighty.
Of course, we always had time to thank the Almighty for the guidance and blessings as we visited the Basilica de Sto. Niño and relaxing moments in Cebu's beaches.