Saad Festival's Bike Fun Ride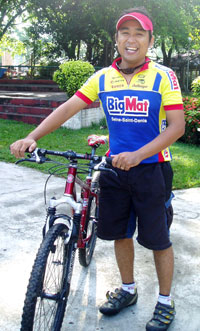 Councilor Allen Españo.
Bikers from the municipality of Leganes and their friends from Iloilo City and Guimaras, joined in the Bike Fun Ride held one Sunday. The ride started from the Leganes Pavilion, included some barangays as well as the coastal areas of Dumangas and back to the local municipality again. Then, the bikers had lunch at the Pavilion. There were 47 participants.
The project is already on its 5th year, according to its organizer, Councilor Allen Españo. He added that the activity aims to promote biking as an alternative local transport. "It's a way for us to promote a cleaner and greener environment because it doesn't use fuel," he further said.
Biking is also another form of exercise, thus, promoting a healthy lifestyle.
Españo revealed that he looks forward to having bike parking areas in the plaza, schools and market. This thrust will hopefully be included in the setting up of the municipality's traffic plan.
Leganes has many good farm-to-market roads, thus making them convenient for bikers.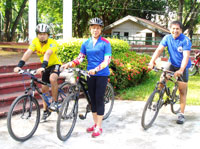 The Iloilo Bikers Club.
Leganes is celebrating the Saad Festival and its town fiesta on April 25, 2009.