Neochef Grand Finals set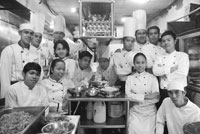 The competitors.
Neochef, the first mall-based amateur cooking contest in the region will finally have its Grand Finals on April 24, 1 pm, at the Fountain Area of Robinsons Place Iloilo.
Seven pairs of promising chefs, a cut above the rest from the previous months' elimination rounds, will battle it to prove who are innovative and edgy in food preparation, have the passion for cooking, and ready to be hailed as the next best young chefs. They are Leodi Pabelona and Ralph Dayot, Anne Dette Masa and Pearly Mae Espiritu, Michelle Joy Tagarda and Walter Tagudando, Joely Artillo and Mark Errol Salvador, Jim Bobis and Benedict Benedicto, Jason Phillip Jacomille and Dennis Bernales, and Lu Martin Dalisay and Jan Joe Gino Dubria.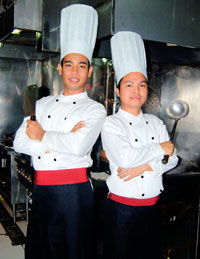 To help us identify the winners, we are privileged to have two prominent people in the field of culinary: Society chef Margarita "Gaita" Araneta–Fores, known for her Italian cuisine, who owns Cibo (Italian name for food), Pepato and Café Bola located branches at Metro Manila where her regular clients include President Gloria Macapagal Arroyo and Palanca Award Winner Mikaela " Mickey" Fenix, author of many best-selling cookbooks, Editor-in-chief of Food Magazine, and columnist of Philippine Daily Inquirer.
Special thanks to Unilever Foods, UFC-Heinz, Del Monte Phils., Picture City, Al Dente, Sarabia Manor Hotel and Convention Center.