Tim Freeman brings new flavors to Iloilo
Chef Tim was Executive Sous Chef for George Voinvich, the State Governor of Ohio. He prepared meals for the Governor and the First Lady
From Houston to Moscow and now, Iloilo.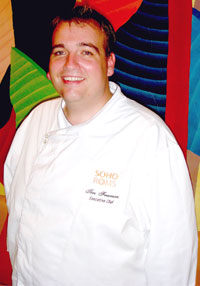 Tim Freeman begins a new culinary
chapter in Iloilo City.
Tim Freeman, Days Hotel Iloilo's newest Executive Chef has been everywhere. From his humble culinary beginnings in Houston, Texas to the oligarch-filled city of Moscow, Chef Tim's vast kitchen experience is truly noteworthy.
After graduating from Sullivan College in Louisville, Kentucky, Chef Tim was able to work as Sous Chef in Wolfgang Puck's Spago Restaurant in Beverly Hills California from May 1997 to August 1998. After his Spago stint, he was able to work as Chef de Partie under the direction of Executive Chef Walter Scheib in Washington, DC. He oversaw preparation, set-up and delivery, and tear down of events exceeding 3,000 guests.
From September 2001-October 2002, Chef Tim was Executive Sous Chef for George Voinvich, the State Governor of Ohio. He prepared meals for the Governor and the First Lady. He also ventured into preparing and catering food for private parties and events.
From October 2002 to February 2004 and August 2004 to March 2006, Chef Tim was Executive Chef for Denison University and Sugas Deep South Cuisine respectively. In June 2006, Chef Tim was hired as Group Executive Chef of Doug Steele Restaurant Group based in Moscow, Russia. He primarily oversaw operations of two restaurants – Doug's Steakhouse and Blowfish Asian Cuisine. He was responsible for menu development, hiring of culinary staff, menu design, kitchen design and other designations. In only three months, Doug's Steakhouse was named as Best Steakhouse in Moscow and it was also awarded as the number one Best New Restaurant of 2006.
Before coming to Iloilo City, Chef Tim was Executive Chef of Soho Rooms Moscow, a 3,000-square-foot building with a multi-level restaurant, club, roof, terrace, DJ Bar and Chill Out Zone. Soho Rooms were voted as one of the Top Ten Clubs in the world by several sources. As Executive Chef, he was responsible for creating a totally new and exciting menu for the Moscow scene. He was also responsible for designing kitchens, sourcing suppliers, interviewing and hiring culinary staff, overseeing purchases and inventory control.
As Chef Tim begins a new culinary chapter in Iloilo City, The Promenade is proud to present him to food lovers all over the city. He will surely bring new and exciting flavors, not only to The Promenade by to the City of Love and Gastronomists, Iloilo.