Metamorphosis: Graduation of Ateneo de Iloilo's Seniors 08-09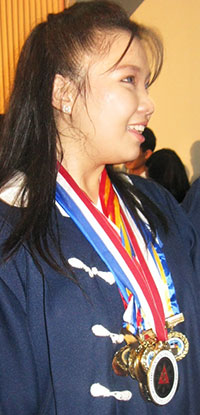 This is my now And I am breathing in the moment But I look around I can't believe the love I see
My fears behind me Gone are the shadows and doubts That was then This is my now.
Transition periods are indeed remarkable.
Who wouldn't agree with this? We all make big deals of such stages, just like when a girl becomes a fully-bloomed woman and when a boy becomes a 'fully-pledged' man. These, and almost all other changes are commonly associated with the delicate life cycle of a simple insect which starts out small and unnoticeable but, when nurtured through time becomes a natural wonder in its own way—the metamorphosis of a butterfly, and a phase this cycle was indeed shown on that joyful and memorable event.
It was the 25th of March when the be-medaled, proud, exceptional, and Christ-centered Ateneans gracefully flaunted their coats of blue alongside with their parents whose smiles were ear-reaching. Following them in that solemn parade were their educators, tightly embracing the feeling of much satisfaction and pride. Nothing surpassed the enchanted aura brought about by graduation day.
Gazing at the seniors, it was not deniable that they were very much happy as they held their head wave up high—this is just natural, of course, for at last, their efforts will be rewarded after four long years, plus the fact that they can finally kiss overarching, head-banging Math and Physics investigative projects and theses gratefully and imaginatively goodbye.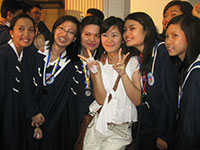 Indeed, the seniors were like caterpillars entering the busiest stage of the cycle which will allow them to shed their old skins to be fully grown butterflies—beautiful, independent, and free. They might be hiding behind their award-winning, picture perfect smiles for sadness and fear were shown by their eyes that day, simply because their graduation also signified them leaving the portals of their ever beloved Alma Mater and going on their separate ways in college; but it's no question that that day also marked their transition period from being boys in loose jersey short and girls in ponytails to young men and women for others, ready to face all risks and challenges that await them, and ready to be molded further so that in time, they can finally be beautiful butterflies, soaring high with flying colors in the sky.
Ad Majorem Dei Glorian, for the Greater Glory of God!