Winning starts with passion: Ralph Oliver Layco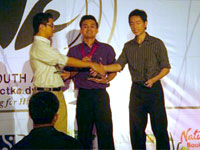 Ralph Oliver Layco (middle) during the
giving out of awards.
'I fell in love with my craft and I can't wait to start changing the world with my own ways.'
At 20, Ralph Oliver Layco confesses he is addicted to reading articles about marketing and advertising. "I'm amazed with how marketing and advertising have been creating popular cultures. They're shaking the world as we know it," Ralph said.
The senior student of the University of the Philippines-Visayas, however, is also hot on big ideas. And these ideas are what made him stand out more than 50 other students all over the country in the recently held 2009 Agora Youth Awards mounted by the Philippine Marketing Association (PMA), the umbrella organization of marketing practitioners in the country. The awards, which recognizes the best and brightest marketing students and organizations today, was held at the Philippine Stock Exchange (PSE) Auditorium, Ortigas, Pasig City last March 25.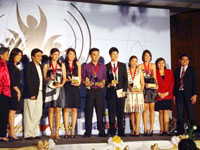 With the winners and organizers.
Ralph, a BSBA major in Marketing, was the Valedictorian among 12 national winners for breezing his way through a case study of a homegrown personal care brand. His methodical consumer analysis and gender-neutral communication strategy for HBC Home of Beauty Exclusives clinched him the title.
The judges commended his marketing plan in categories of "innovation, solid composition, and originality." According to Mr. Edgar Caper of HBC, due to its executability, he is planning to put the strategies on the company's marketing plan for 2010.
When asked what his secrets are in making it to the top of the whole league of marketing student hopefuls, his answer: "Read. The industry of marketing is filled with surprising twists and turns. It has a lot to tell."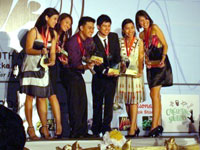 Ralph with the other winners.
Ralph has directed numerous record-breaking seminar, being the President of the Iloilo Federation of Junior Marketing Associations, the umbrella organization of local school university chapters in Iloilo. "I enjoy the pressure of directing events. Along with it are meeting challenges, deadlines and pressure. But its rewards come in the form of new developed friendships, meeting personalities and having the experience. You need that."
Winning in the Agora Youth Awards "meant inspiring more marketing students in the exciting and influential world of marketing," Ralph said. At this point, he says he would prefer accepting a job offer from a considerable number of corporate job offers he is receiving now that would train him more as a marketing practitioner.
"I plan to start my own business at a very young age. I perceive the present economic situation as a great opportunity to make something wonderful," Ralph said when asked of his plans. "I fell in love with my craft and I can't wait to start changing the world with my own ways."
The other winners were: Ria Gatmaitan, Miko Co, Beatriz Lim, Mary Sandra Ascalon, Katrina Villanueva, Hanna Lou Javier, and Alexis Tong, all of whom are students from De La Salle University-Taft, Keithlee Chua of San Beda College and Kathleen Maalindog of New Era University.
Recognized as having the best marketing student organization is also from the University of the Philippines-Visayas, with runner-up awards to Ateneo de Manila University and University of the Philippines-Diliman.
The winners received gift certificates and trophies.
This year's judges were Marie Concepcion Young, president of RFM; Myelen Abiva, president of the Philippine Marketing Association; Edgar Caper, AVP for Marketing of HBC; and more.
The sponsors were HBC Home of Beauty Exclusives, Next Step Events, Executive Decisions, Anvil Publishing, Piknik, Carlo Rossi, HP Calculators, Binalot, Blooming Ventures, and The Radio Partners, Inc.