TOREADOR
Seafood Mania at Mojave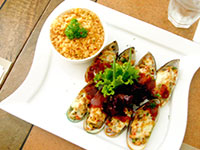 Baked New Zealand Mussels with
Mojave Barbecue Sauce and
Mexican Rice.
This summer, Mojave goes manic over mussels, salmon, prawns and the best-tasting seafood Fajita in the city.
Summer brings to mind the sea, the sand, and the sun. But for food lovers, summer means seafood – and lots of it! This month until the end of May, MOJAVE GRILL AND STEAK HOUSE will indulge seafood lovers with a mouthwatering menu top-billed by dishes like Baked New Zealand Mussels with Mojave Barbecue Sauce and Mexican Rice and Seafood Fajita (mixed seafood dribbled with the melty goodness of cheese, onions, and tomatoes).
Prawn addicts can get their requisite fix with dishes like Gratinated Prawns with Bernaise Sauce over a bed of creamed cauliflower. This dish is addicting what with the creamy and rich sauce smothering the prawns and the cauliflower. Sesame Crusted Prawns on Anna Potatoes can also be had with Mexican guacamole and Mojave Barbecue Sauce on the side.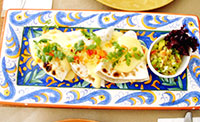 Seafood Fajita.
To cure your seafood craving, Seared Cajun Salmon with Roasted Bell Peppers and onion slaw with mint and basil pesto will do the job. The tender, juicy, melt-in-your-mouth salmon is unforgettable and can probably be a panacea for whatever gastronomical biases you might have. Before you end with dessert, try the Seafood Casserole, a delicious seafood symphony of New Zealand mussels, shrimp, squid, and creamy Dory fillet sautéed in Mexican spice with classic Mornay sauce of cheddar, mozzarella, and parmesan cheeses.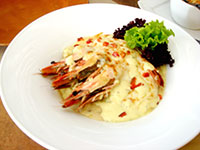 Gratinated Prawns with Bernaise Sauce.
Give in to your seafood craving. Indulge in your favorite seafood dishes only at Mojave Grill and Steak House this summer.
Mojave is located at The Avenue, G. Pison Ave., Brgy. San Rafael, Mandurriao, Iloilo City.