TOREADOR
Emilion's Bacalao
New Dish on the Block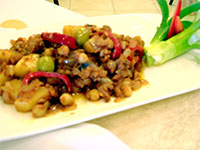 Bacalao, a new dish at Emilion Modern
Filipino Cuisine.
Since it opened in 2006, EMILION MODERN FILIPINO CUISINE along General Luna Street has been dishing out great "modernized" Pinoy food for the ever-evolving palate of the Ilonggos. Its convenient location, comfortable, "feel-at-home" ambience, and interesting menu line-up have easily made it the go-to restaurant for those who crave more than just the usual Filipino food.
And sure enough, this month, Emilion introduces "more than just the usual" with the newest addition to its burgeoning menu -- BACALAO. According to Emilion's Mannie Gruenberg, this classic dish has been an all-time favorite of the restaurant owners (Diez family) which they've been wanting to share to eager Emilion diners.
BACALAO or Bacalhau, a Spanish word that refers to salted dried Cod fish, is a fish dish originally from Northern Spain. Fish lovers would be excited to know that this dish will be served in Emilion not only for this Lenten Season, but all year-round.
Imagine the salty flavor of the Cod, combined with the rich, sweet taste of tomatoes cooked in garlic and olive oil with potatoes, fresh olives and chickpeas (garbanzos) – utterly delicious! This classic Spanish dish that can make your mouth water by just thinking about its savory, sweet-salty flavor is sure to become an instant Ilonggo favorite.
Give in to your taste buds. Enjoy the exquisite flavor of BACALAO at Emilion, where classic cuisine meets modern, and where great food is a prerequisite.
Emilion Modern Filipino Cuisine is located along General Luna Street beside JD Bakeshop. For details on the menu and their newest Bacalao dish, call 337-4292 and 508-8882.