'Atavio' at Moravia!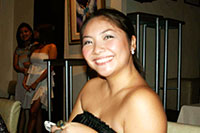 Ms Carmeli Bantug.
"Atavio"….
Am I "talking Greek"? It's actually Spanish, which means "attire", and it's the label that's slowly making waves in the local fashion scene because of its unique design style and mid-range prices. With the economy that's not going upwards any day now, affordable prices are what we want to see in stores, and yes, in our closets.
Atavio is a clothing line owned by four enterprising young women who all graduated from the Fashion Institute of the Philippines. The company is the brainchild of Carmeli Bantug, Angela Tucay, Johanna Joy Go, and Jennifer Elaine Tadena-de Jesus, who are all very hands-on in running their business. With a mission to sell affordable yet fashionable clothing, they launched "Atavio" last December 2007, and they've been very busy ever since. And last February 11, Carmeli Bantug went back to her hometown in Bacolod to hold a fashion show at the Moravia Bar. The show was one of the events of the Arte Kalye Festival of Bacolod, a festival that celebrates February Art Month.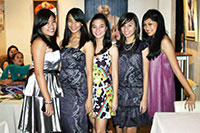 A pose after the show.
The cozy bar was packed that night by guests who wanted to see what Atavio was all about. Seen enjoying the collection were Silay City's Mayor Oti Montelibano and wife, Marissa, Dave and Gianne Sanson, and many of Bacolod's young crowd. The place was packed, and yes, it was standing room only!
So while we were enjoying our drink, the models sashay-ed their way down the aisle and the couture was indeed one that you can wear comfortably, from day till night. And when I checked the tags, the prices were not bad at all! Finally, we can be fashionistas without breaking the bank. As if that wasn't enough, the designs can be custom made to suit your body type. Now I know I really love them!
So, if I've got you curious about Atavio, you can check them out at BACKSTAGE, 2nd level Serendra Piazza, McKinley Parkway, Fort Bonifacio, Bonifacio Global City, Taguig, Metro Manila.