Pop Icons Live In Bacolod: A Review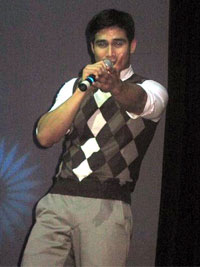 Piolo Pascual..
BACOLOD CITY – Let me start this piece by saying that yours truly is not your entertainment-slash-show business guru. Far from it actually. But, I am using that 'inexperience' to come up with an honest-to-goodness review of that one amazing evening of music and entertainment. Now I am already getting ahead of my thoughts and already breaking the supposed 'meat' of this review. But like the Oscars 2009 Best Picture "Slumdog Millionaire", allow me to sum up my "POP ICONS Live in Bacolod " review - REALLY GREAT.
Here are the reasons why.
"POP ICONS Live in Bacolod" was presented by Manio Events Management and Banco De Oro. It featured Filipino artists Sam Milby, Christian Bautista, Mark Bautista and Piolo Pascual. The concert venue was the La Salle Coliseum and from what I saw, it was an Iloilo-team of VJS crew tasked with the audio needs.
Tickets were a bit pricey for my standards – P1,500, P1,000 and the bleachers at P250 – but then by the end of the show, I realized, I would have easily let-go of my P2,000 for the over-all experience of seeing these young men perform.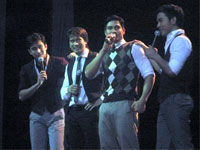 The pop icons.
The show officially started with the individual introduction of the POP ICONS as lights dimmed and a video clip went on to do the job. Good job too, to whoever came up with the concept – brief and up-close pics of each one as they eventually segued to the actual entry on stage of the four. The momentum was built to the right notch.
Sorry, the entire evening, I was having difficulty distinguishing who was Sam and who was Christian. Piolo and Mark I already know by heart. Anyway, when they went out, the predominantly female audience went wild. Give it to the four and the good audio system in place, the opening song was clear. There was non-stop fun and the audience delighted one song after the other.
The repertoire of songs was diverse. The evening began with love songs, then moved on to Original Filipino Music, the '60s – the four sounded and blended amazingly well here especially when the genre was way before their gene
ration. I thought it was also fascinating to watch them give a modern touch to the medley of hits in the 60's. The finger-snapping, hips to the left-hips to the right moves were cool. Cute and cool.
Then '70s, the hits in the '80s and then the more current ones including the American Idol song of Taylor Hicks' "….do I make you proud….." They did, by the way, truly did. Made us proud.
Each had a moment to shine as they serenaded the crowd. I think it was really nice that all four took the effort to be close to the audience. Kudos by the way to the Manio Management ushers and concert security who all did a remarkable job in securing the artists while not really shoving offensively the fans.
But then again thanks be to our prized seats. Thanks be to you, Mr. Erick and PJ. Shoving and all, our view was never blocked at all. And oh, interesting how even the ABS-CBN staff from Manila were just there on the side – never in the way as well and were just you know, there without really being seemingly there.
Favorite part that evening? The serenade made to four lucky ladies with the luckiest in my book, our family's longtime nanny. I got a personal "Thank You" as well from Piolo – yes, he did particularly mention my name – along with a "Thank You" to my Iloilo troop and a "Happy Birthday Yaya" to our Nana.
It was an evening of beautiful music and dancing. Yeah, Mark and Sam danced.
What Piolo and Christian lacked in dancing prowess – though Piolo did some sexy gyrating and Christian swayed at one point – they both made up in songs sung from the heart.
There was that one part too where the four sat on centerstage and talked about the ladies in their lives. I forgot who was attached to whom - and totally too for my lack of enough show business data - but I thought it was smart how that part was integrated into the show. It again generated a lot of shrieks and near pandemonium. Imagine how crazy it must be if those ladies were to suddenly appear on stage.
I had to ask my friend Donel who was with me that evening the relevance of some particular anecdotes made because they did not make any sense to me. Yet come singing time, it did not really matter that I was still as confused who Sam was and where Christian is. The songs just make you forget. And I truly felt that all four of them gave their hearts out.
When Sam rendered "…ikaw pa rin ang sinisigaw ng damdamin…," and went all the way to shake hands with fans in the bleacher, I knew right there and then that every one had their hard-earned money's worth for the tickets paid.
When Christian did his "Everything you do," I was just totally glad I spent my day-off with thousands of strangers for an evening of music in Bacolod. When Mark sang "I need you," I had this much pride in me for I know him to be a good person and a great son and brother on top of his being an amazing performer. And when Piolo sang "I don't want you to go," you really did not want to go anywhere at all. By the way, I'm not really sure of the song titles, ok?
Considering how all four are huge stars in their own right, there was actually balance and harmony in terms of share of on-stage exposure, music and songs rendered, performance seen and the spiels in between. Piolo was of course the obvious 'captain of the ship' so to speak yet there was no hint of problem in that. They all truly looked like they were having a good time out there – together – and never was seen or heard that one did overshadow the other. There was spontaneity, chemistry. Those are the perfect words to describe it actually.
And it was a different Piolo altogether that makes you think how blessed he really is for being able to make the contrast on camera and on stage. He sings as good as he acts. I know he has made a number of movies though to date, I have only seen three – "Milan" which I consider as quality Filipino film, thoroughly researched and great acting of just about everybody in it, that one with Judy Ann Santos in Baguio directed by Joyce Bernal – huge talent Ms. Bernal has – and the latest, the one shot in Bukidnon, "Love me Again". Piolo in all these is one great artist and beyond all that, a greater person which makes him worthy of being loved tremendously.
Which makes me wonder now if Mark, Sam and Christian are in the movies too. Now I realized this nation actually have more potential than we care to appreciate.
POP ICONS Live in Bacolod. Next time these guys show up in your neighborhood, give yourself a treat and watch them live. While at it, do a better job in remembering the names and faces too. Sam Milby. Christian Bautista. Mark Bautista. And the Piolo Pascual. Worthy to be called icons in the world of pop and music.
* * *
On a personal note, THANK YOU so much ERICK and PJ. For everything that made that evening extra special. Forever grateful. Thanks.