Passionate Designs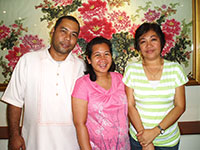 Alex & Liezl Salvilla and Christina
Badana.
"You can't create anything special without passion."
So said Alex Salvilla, co-owner of Passionate Design & Printing Services, a specialty shop in Amigo Plaza Mall. He, his sister-in-law Christine and his wife Liezl are partners in the said venture.
They are artists and each has a big part in creating the pieces that make Passionate Design a favorite place to buy souvenir items and other "cute" stuff from.
Christine is adept in wedding souvenirs while Liezl's marvelous hands create the awesome sand art locked in glass vases. Alex, on the other hand, handles the financial aspect of the business and let his artistic juices flow, too.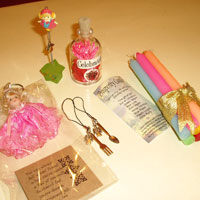 Some cute items.
Passionate Designs' products are souvenirs for all occasions, rosaries (bestseller), sand designs, sand blasting on boxes and other containers, flower soaps, paper soaps, decors that carry inspirational messages that could brighten your day as well as funny items you can't find anywhere else.
Since they started last 2008, many people had been buying their special items from Passionate Designs. Even tourists go to the area and loved their products enough that they bring them to their own countries. Our balikbayans purchase in volume so they could show off what Philippine-made products are all about now.
So, what sets Passionate Design apart? "We create our items with love and passion. We work as if we are part of the event where that item will be given out. People will see if love and passion were exerted in the making of a certain product," said Christine.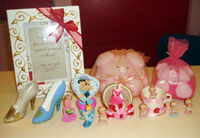 Debut and baptism souvenirs.
"That's why we are called Passionate Designs," said Alex.
* * *
Passionate Designs can be reached through telephone numbers 320-4991, 855-1638, 0917-480-8388 and 0920-2188-588.