Karmela at 18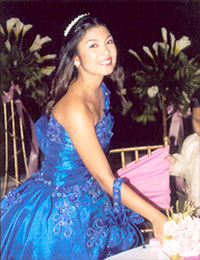 The debutante Ma. Karmela Perez.
It was the night when San Antonio Beach Resort in Baybay, Roxas City was transformed into a Martha Stewart-like setting with white calla lilies adorning the cabanas, beaded curtains hanging on the trellis, and fresh pink roses teeming on tall glass vases set on every table. A red carpet at the entrance beckons the guests to the grand occasion.
Last February 7, 2009, MA. KARMELA AGUIRRE PEREZ celebrated her momentous 18th birthday with her family, friends, and classmates at the splendid poolside of San Antonio Beach Resort. The debutante was a sight to behold in her Baba Galang royal blue taffeta gown. She was escorted by a dapper young gentleman, Niel Clores.
Joining Karmela during her special day were her proud mom, Dr. Matilde Perez, dean of the College of Business and Accountancy at Filamer Christian College, grandparents, uncles and aunts, cousins, classmates from the FCC College of Nursing, and her favorite "lola" Emma Andama, among others.
A sumptuous buffet of Filipino-style beef steak, buttered chicken, pork hamonado, lechon, and nido soup was served for the guests.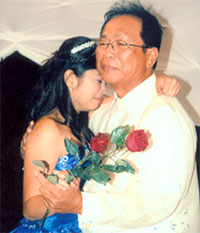 An emotional dance with Lolo Papa,
Mansueto Aguirre, Sr.
The debutante's birthday cake, consisting of four dainty cakes topped with three pink roses and each placed atop cylindrical glass vases with pink faux orchids, was prepared by her family. Designer-inspired colognes in small pink bottles tied in silver ribbons were given to guests as party favors.
It was one grand debutante party that Karmela, her family, and guests will forever muse over with delight and pleasure!