First organic garden produce of Nature's Village Resort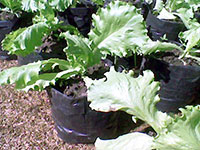 Good quality organic lettuce.
Nature's Village Resort (NVR) Hotel and Restaurant in Talisay City, Negros Occidental harvested its first-ever organic garden produce of lettuce last eb. 23, 2009. This opens yet another venture in the resort-hotel's bid to promote sustainable tourism development in the province.
This project started with a test-planting of over six thousand seedlings and is located in the new Agri-Forest site of NVR, neatly lined up a few meters from the property's camp site. The recently-harvested organic lettuce comes in three varieties --- the lettuce General, the lettuce Grand Rapid, and the lettuce Red Rapid. Each variety of lettuce produce runs with a promo harvest price of P120.00 a kilo. According to the organic garden's caretaker, it takes just about twenty-five (25) days since its planting time to raise a whole garden of lettuce before they could be harvested. The lettuce exhibit big, fresh and healthy leaves that is true to the excellent product quality NVR is committed to promote its growing market of clients.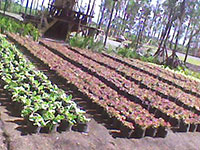 NVR's Organic Garden at the Agri-Forest
area.
Come and visit NVR's organic garden and Agri-Forest and the staff would be glad to show you around.