The unsinkable Ms. Au Palomar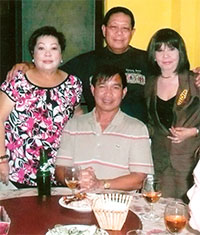 Valentine party at Gen. Bobby
Lastimoso's residence. German Doria,
Penny Lastimoso, Gen. Bobby Lastimoso
and and Au Palomar.
Despite the unfortunate incident that happened to her a month ago wherein she had a bit of misunderstanding with one of her town's public official (that's another story my dear!) that led to a word war in the papers and radio, the ever gracious and fabulously looking Ms. Au Palomar of Tapaz, Capiz is back with her composure. Once again, she is the undisputed social queen of her hometown. The proof is in her schedule of non-ending activities and parties, which she loves to attend and also to give. Ms. Au Palomar is the sister of equally glamorous ladies – the philanthropic Nelly Palomar Weiss and Madame Jane Palomar, who lives in London, Chicago and Kuwait.
Always seen in almost all the best sorties in the Province of Capiz, this petite lady with a golden heart never fails to bring color and life to every social function she graces. This coming March 14, she will once again lend her presence when she will join her nephew, businessman Roberto "Nonong" Palomar, in entertaining the VIP guests who will judge the boat racing competition at the family's magnificent Marago Resort. This newly built resort located some 3 kilometers away from the town proper, boasts of a man-made lake (where the competition will take place), an infinity pool, jacuzzi pool and floating cottages for out-of-town excursionists. A panoramic view of the mountains of Capiz and its lush sceneries are some of the wonderful things you will find at the Marago Resort.
With so many exciting plans still on the development stage for this resort, expect that Ms. Au Palomar will definitely be on the front line welcoming all the guests.