Loraine's lavish celebration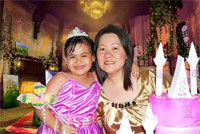 Loraine with mom Christine.
A mini-carnival ensemble, surrounded by multi-hued inflatables by Che` Balloons & Decors, highlighted by a Barbie milieu welcomed family and friends of the cute and lovely celebrator Loraine Joy Villanueva.
Iloilo's 'IT' kid (wearing no less than a Vera Wang gown!) entertained her guests to the party area and were delighted to the different kiddie extravagant corners in the place --- face painting, cotton candy, make-over, ice cream, among others. And as if these are not enough, they get to take home more party treats, memorable enough to end Loraine's 7th birthday celebration.